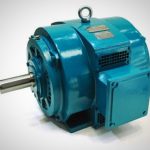 Brook IP23 Electric Motors, IE3 Drip Proof Cast Iron range is a high quality range of electric motor. With a specification suitable for most industrial applications. These motors cover outputs from 18.5KW up to 710KW in frames sizes 160 to 355.
Predominately used in the refrigeration and compressor industries for their reduced frame size offerings. These type of motors have been overlooked because of their inefficiencies. Brook Crompton have released this IE3 IP23 version which is considered to be one of the most efficient motors of this type. Available as direct replacements for IEC & BS motors with output speeds include 2 pole and 4 pole. Thermistors are fitted as standard.
Stock modifications options:
B35 foot and flanged mounted. Roller bearing and Anti condensation heaters. Re-stamping for inverter rated and Insulated bearing options.
With Brook IP23 Electric Motors, you get as standard – exceptional quality – reliable backup – full technical support.
We stock our Brook Crompton Electric Motors in the Midlands, to enable us to service the whole of the UK. Sameday delivery or overnight carriage.
Buy from a long standing 45 years Premium Brook Crompton Motor Centre – E. Bennett 01782 825281