Submersible Pumps available from Calpeda
Calpeda GXR Range of submersible pumps are suitable for a wide range of pumping applications.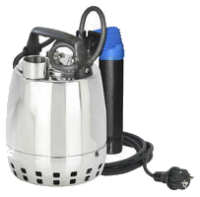 These include domestic, residential, Industrial and civil. Perfect for using as a Hot Tub pump, for emptying water from your Hot Tub in your garden. Draining rooms, emptying tanks or ponds, these pumps are very easy to set up and use.
Removal of water from ponds, streams and for rainwater collection.
For draining Hot Tubs and tanks.
Pumping clean water with solids up to 10mm in size
Calpeda Submersible pumps when used outdoors a cable of not less than 10m should be used.
GXR Submersible Pump Supply Details
110v Single Phase 50Hz Supply
230v Single Phase 50Hz Supply
400v Three Phase 50Hz Supply
Construction
Chrome Nickel Stainless Steel Construction
Single open Impellor with vertical port
Water cooled design
Double shaft seal complete with oil chamber
Small pump packed with a high level of performance
Head 12.7m and flow rates up to 220 liters per minute
GXR Submersible Pump Options
Manual operation
Automatic magnetic float
Datasheet, Charts, PDF
Contacts
We are a National Distributor for Calpeda with direct access to their stock of Calpeda GXR Submersible Pumps.
Email: motors@bennettelectrical.com
Tel: 01782 825281