---
The CFW range of Inverter drives from WEGare proving to be an excellent choice for controlling motor driven systems. We are now stocking the CFW700 WEG range here at E. Bennett with access to the full range CFW11, CFW100 MiniDrive and CFW500, direct from WEG`s UK factory.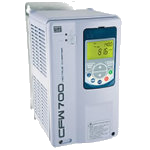 As with most Inverter drive manufacturers, Technical support is critical. With both WEG and E.Bennett you have access to over 30 years Inverter drive experience.
E. Bennett have sold and supported Inverter drives  for over 30 years. Our in depth experience and knowledge comes with Danfoss Inverter drives and over the last 10 years we have gained experience with the WEG CFW range. Training days are available in house or on site, offering hands on and technical courses. Contact motors@bennettelectrical.com for more information.
CFW700 Features:
Vectrue Technology® – WEG Variable Speed Drive Control Technology
Optimal Flux® – WEG Technology for the Control of High Efficiency Induction Motors Applied to Constant Torque Load
Optimal Braking® – WEG Frequency Inverters Braking Technology
Product information CFW700 Click here
Inverter Drives Stocked at E.Bennett:
Danfoss Drives – FC300, FC200, FC280, FC51 and FC100 up to 132kw + all options (Plus VLT2800 Series now obsolete)
WEG Inverter Drives – CFW700 up to 15kw + all options
Mitsubishi Drives – D740 up to 7.5kw + all options