The CFW900 is the New High Tech Inverter from WEG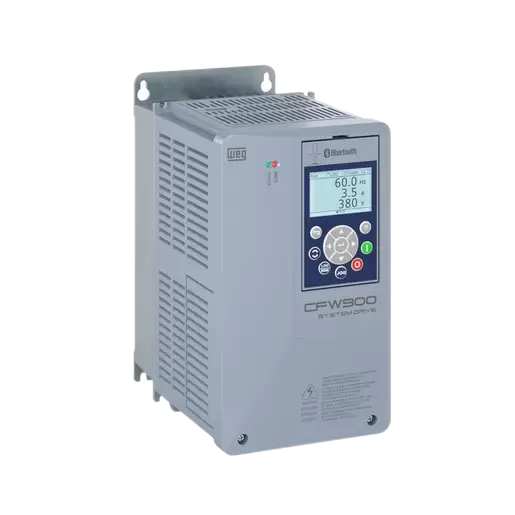 The CFW900 drive is the complete solution, with high performance and safety. Combined with the most flexibility and connectivity.
Benefits:
Easy Operation
Efficiency and High Performance
Connectivity
Advanced Energy Saving Function
High Power Density
Reduced Size
Functional safety
Modern Graphical HMI
Long cables to the motor, providing greater flexibility
Connection for motor thermistor
3C2 class topicalization and conformal coating in standard product – optional 3C3 IEC 60721-3-3
WEG High Performance Technology:
Controls different types of motors. Using WEG`s "Vecture Technology". Induction motors and PM Motors. Intelligent thermal Management is used too! The CFW900 can measure the ambient temperature and configure "itself" by varying its switching frequency. Thus becoming a versatile inverter and enabling use in different applications.
Advantages:
Operation at ambient temperatures -10 Degrees to +50 degrees
Simple fan removal for cleaning
Better control type Methodology
Optimal Braking
High Power density
Improved HMI:
USB Port
Bluetooth
Real time clock
Graphical HMI
Help Key
Detachable Keypad
CFW900 Introduction Video:
Connectivity:
Dual Switch Ethernet
Modbus-TCP
MQTT Communication
Plug-in Modules to expand other protocols – Profibus-DP – CANopen – DeviceNET
Bluetooth
Safety:
STO (Safe Torque Off)
SS1 (Safe Stop)
Extra Features:
DC Link Inductors – reduces Harmonic Mitigation
Built-in RFI Suppressor
Conformal Coating
24V DC Power Supply via External Source
Motor Temperature Monitoring
Side by side installation
View our Inverter Products Here
WEG Inverter Information Here