Electric Motor Ecodesign Regulation (EU) 2019/1781
Current Regulation (EU) 640/2009:
The current Electric motor efficiency regulations state the following rules for induction motors. The motors included are: single speed, 3 phase, 50Hz continuous duty electric motors.
The following electric motors must meet IE3 values or IE2 values when controlled by an Inverter. These sizes include 0.75kw to 375kw – 2 pole, 4 pole and 6 poles.
The only exceptions are ATEX motors together with braked electric motors and submersible electric motors.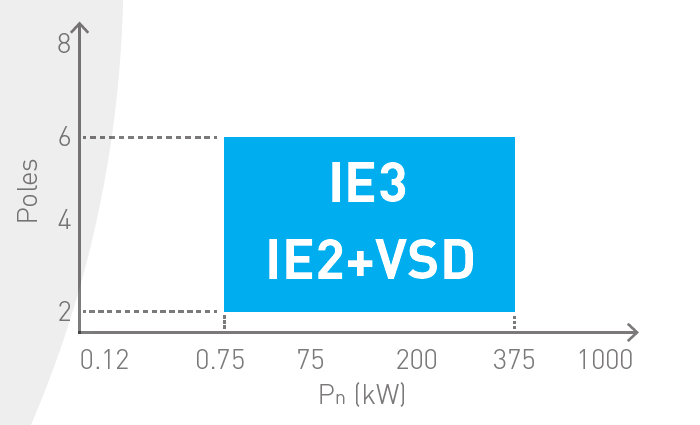 New Ecodesign Regulation (EU) 2019/1781
From 1st July 2021 the old regulation will be replaced by the Ecodesign Regulation (EU) 2019/1781. This will be introduced in two stages.
Electric Motor Efficiency Regulation Change Stage 1:
From 1st July 2021 the motor powers between 0.12kw and 0.74kw, will be required to reach the IE2 standard.
The IE3 standard will be increasing 375kW to 1000kW.
More electric motors types introduced into stage 1, these include:
8 pole speeds – Braked Electric Motors – Hazardous area motors: Ex ec, Ex tb, Ex tc, Exdb and Ex dc. Together with TEAO motors with duty cycles S1 and S3.
Please Note that IE2 efficiency Motors + Inverter will no longer be applicable.
Motors exempt from the new Electric Motor Efficiency requirement include: High Voltage Electric Motors, mining Electric Motors and TENV (non vented motors).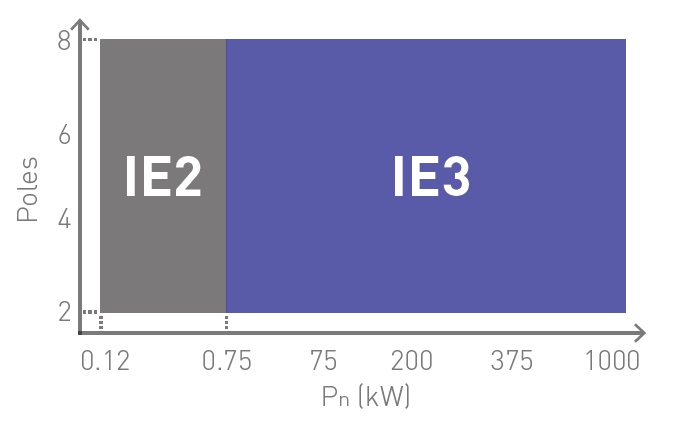 Electric Motor Efficiency Change Stage 2:
From 1st July 2023 Stages 2 comes into effect. Motors with powers between 75kW and 200kW will then be mandatory IE4. Speeds including 2, 4 and 6 poles. This relates to all types of motors stated in Stage 1.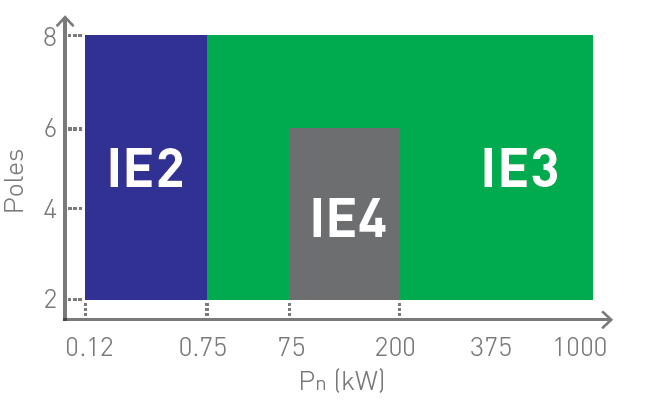 Stage 2 will also introduce a minimum efficiency standard of IE2 for Single Phase motors and Ex eb (Increased Safety) motors.
Exempt motors: High Voltage Motors, Mining Motors and TENV (non vented motors).
FAQ:
Can electric motors manufactured outside the EU be included?
Yes – The Ecodesign Regulation includes electric motors imported and sold into the EU.
Can Electric motors for Export be included in this regulation?
No – Motors for export outside of the EU, the regulation does not apply.
Can companies still stock the old Ecodesign regulations electric motors?
The Ecodesign regulation (EU) 2019/1781 covers placing electric motors on to the market (Import or sale to a distributor or OEM).
Electric motors not meeting the requirements must not be marketed.
Replacing a motor that does not meet the latest Ecodesign regulations – can I source a "like for like" design?
1st July 2021 until 30th June 2029 identical replacement electric motors maybe supplied, but only if they were placed on the market before 1st June 2022.