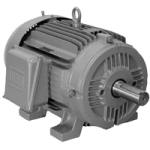 "National Electrical Manufacturers Association"
Website available here
E.Bennett (Electrical) Ltd can offer both Brook Crompton and WEG NEMA motors on short lead times for the US market.
Similarly we have over 600 B56 NEMA framed motors in stock at our Stoke on trent factory.
WEG B56 Offer – Ex Stock
IP55 TEFC.
IP21.
Resilient base.
Foot, flanged and face mounted options.
Fractional Horse powers 1/4hp 1/3hp, 1/2hp, 2/3hp, 3/4hp, 1hp and 1.5hp.
2 and 4 poles.
single and three phase.
WEG Offer – 2-3 Weeks Lead time (Air Freight)
W22 2 & 4 pole up to 150HP
143T – 445TS
Nema Premium Efficiency
Stocked as B3, B34 & B35
Cast Iron Frame
Standard stock motor suitable for hazardous area- Class 1, Div 2, Gr. A,B,C & D T3. Class 1, Zone 2, IIC T3. Class II, Div II, Gr. F & G T4
Brook Crompton Offer – 6-8 Weeks Lead time (normal transport)
2 & 4 pole Aluminium up to 30HP
6 up to 20HP
8 pole up to 15HP
Foot, Flanged and face mountings available
2 & 4 pole Cast Iron up to 500HP
6 pole up to 450HP
8 pole up to 300HP
Foot, Flanged and face mountings available
Contact us today for competitive quotes and Technical quotations.
motors@bennettelectrical.com
01782 825281
Our Dedicated Product page here.