Wattdrive Geared Units Project.
A leading manufacturer of plastic plant pots approached us when they were experiencing problems with the gearboxes for their Rotary Plastic Moulding machine.
Their main issues were that the two existing Renold U30 Worm boxes were failing repeatedly. Also experienced were excessive noise, vibration and leaking oil as well as severe wear on the gears.
These had been replaced at a steady rate since 1989.
We suggested replacing these with a more robust efficient Wattdrive gearbox. These are available from our stock of Helical, Helical Bevel and shaft mounted gearboxes in Burslem.
The Wattdrive geared units offered gave more torque output and was between 20-30% more efficient. Also the Wattdrive Helical Bevel boxes offered are associated with less noise, less vibration and less wear. One of the reasons for this is they have angled teeth which are hardened and ground to create efficient gear mesh.
The company wanted to utilise their existing DC motors, so we offered them an IEC adaptor input flange fitted to the gearboxes. This enabled them fit the DC motors but also later in 2013 have the option of fitting IEC AC motors with variable speed drives. These IEC adaptors are available upto to D160 frame from stock.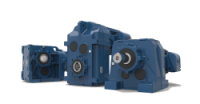 Get in Touch Today Here