The standard minimum efficiencies of single phase motors has changed!
Stage 2 of the Electric Motor Ecodesign Regulation (EU) 2019/1781 came into effect on the 1st July 2023.
Most manufacturers have introduced a IE2 version of their motors. In most cases this has caused a frame size increase.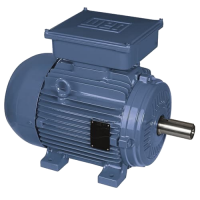 What does this mean to you?
Shaft sizes increase.
Shaft heights increase.
Foot fixings change.
Prices increase.
Energy consumption decrease.
Availability?
Old IE1 available while stocks last.
If replacing motor currently working – provide evidence of serial number and order new on a long lead time.
S6 Rating options available – same motor (old frame size) but short time rated – long lead time.
New IE2 Single phase Motors are now available from us or direct from WEG UK.
Contact us for new pricing.
We currently have in stock IE1 version of the 3.0kw motor which is by far the most common.
Conclusion.
Many applications in the agricultural industry have these motors fitted which will cause concern when replacing. For example Vacuum pumps with standard shaft heights. The pulleys taper lock can be changed to suit a larger shaft relatively easy.
See table below for Kw and frame size changes.
Contact 01782 825281 – motors@bennettelectrical.com
Visit WEG Website: https://www.weg.net/catalog/weg/GB/en/Electric-Motors/c/EU_MT
Link to (EU) 2019/1781: https://www.bennettelectrical.com/electric-motor-efficiency-regulations/
Link to Our WEG Product page: https://www.bennettelectrical.com/electric-motors/weg-uk-electric-motors/
| | | | | |
| --- | --- | --- | --- | --- |
| Speed | KW | Frame | Frame Change | New Frame |
| 2 Pole | 0.37 | 71 | Same Frame | N/A |
| | 0.55 | 71 | Same Frame | N/A |
| | 0.75 | 80 | Same Frame | N/A |
| | 1.1 | 80 | Same Frame | N/A |
| | 1.5 | 90S | Same Frame | N/A |
| | 2.2 | 90L | Same Frame | N/A |
| | 3.0 | 100L | Same Frame | N/A |
| | 3.7 | 112M | Same Frame | N/A |
| | | | | |
| 4 Pole | 0.25 | 71 | Same Frame | N/A |
| | 0.37 | 71 | Same Frame | N/A |
| | 0.55 | 80 | Same Frame | N/A |
| | 0.75 | 80 | Frame Increase | 90 |
| | 1.1 | 90S | Frame Incrase | 100L |
| | 1.5 | 90L | Frame Increase | 100L |
| | 2.2 | 100L | Same Frame | N/A |
| | 3.0 | 112M | Frame Increase | 132M/L |
| | 3.7 | 112M | Frame Increase | 132M/L |