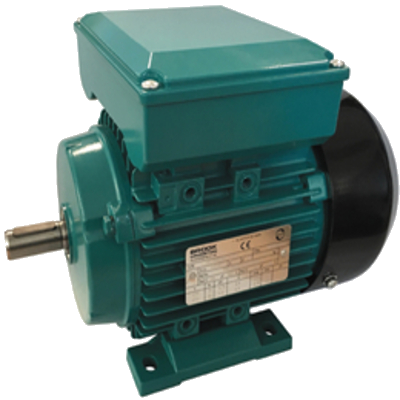 Quality Industrial Electric Motors
E. Bennett (Electrical) offers quality ranges of Single Phase Electric Motors from our warehouse in Stoke on Trent.
Servicing all areas of the UK including the likes of Birmingham, Liverpool, Sheffield, Nottingham, Derby, London, Bristol, Newcastle on Tyne, Manchester and Leeds amongst many others.
We would recommend WEG and Brook Crompton for a Quality Industrial Electric motor. For over 50 years we have been offering these motors to customers who keep returning because of the quality of build. Together with the back up received from our staff.
Furthermore these are Industrial motors and are built to last for many years.
Starting methods range from direct on line to series parallel, which we keep in stock too.
Did you know that you can control a three phase electric motor from a single phase supply? Yes you can, by using a variable speed drive. These specific types of drives offer an output of 230v three phase to control motors up to 2.2Kw. However we supply a Danfoss Aqua drive for larger ratings. Remember to wire the electric motor to the 230v winding (usually Delta).
The Danfoss FC51 Micro drive offers single phase input and 230v three phase output. Ideal for converting three phase lathes to a single phase supply.
E. Bennett offer control units with an array of controls for controlling simple phase conversions.
Below are a few questions and answers relating to these specific type of electric motor.
Where are Single Phase Electric Motors commonly used?
Domestic locations
Commercial locations
Restaurants and Catering venues
Hobby Lathes
Compressors
Pumps
Fans
Bandsaws
Car ramps
Where you only have a Single Phase supply
What are the common issues surrounding these Electric Motors?
Why would you buy an Electric Motor from E. Bennett (Electrical)?
Established Electric Motor distributor
Offer quality alternatives to other manufacturers
Stock all sizes and associated control gear
Full technical support
Full guarantees
Our two main offers are WEG Electric motors and Brook Crompton Electric motors.