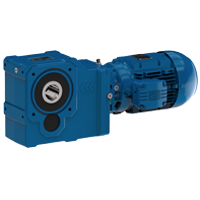 Wattdrive have been associated with E.Bennett for 15+ Years. These products fit perfectly into our company ethos of supplying Quality products from Quality Suppliers. Similarly we supply products from WEG, Brook Crompton, Danfoss Drives, Watt drive, Calpeda, Lowara and Wilo.
Direct accounts with Quality suppliers offer us the ability to offer the best prices and the best service levels available. Furthermore we hold large quantities of stock to service these quality suppliers.
Our fully established workshop can assemble and test a Watt Drive product within two hours. This includes assembly, testing and painting. As a result they are ready for despatch with nationwide coverage.
We only use OUR large stock holdings, certainly not our suppliers. BUT we rely on their stock replacement program to speedily replace assembled items. We currently accept weekly deliveries from Watt drive to replace our used stock.
Watt Drives newest product, the WG20 geared motor definatley surpasses our expectations! These geared units offer a European footprint akin to the likes of SEW and NORD. With the fast build times on offer and competitive pricing, we are sure these will be a big hit in the market place!
Finally the quality is, as you would expect second to none. the video below gives an indication of what to expect.
Download the brochure WG20 Catalog.
Visit the WG20 Website here
Wattdrive Product page in this direction
All enquiries contact our technical team motors@bennettelectrical.com or call 01782 825281