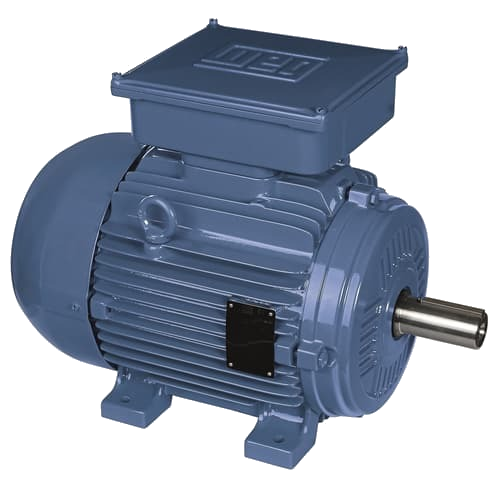 WEG Vacuum pump motors available from our stock. These motors are suitable for every industry operating in the UK and further.
Our stock are cast iron as standard but can also offer aluminum versions too.
WEG Single Phase motors (1 Phase)
All motors are capacitor start/ capacitor run versions – Heavy Duty
Cast Iron and aluminum versions.
Spares are available , which include capacitors, switches, terminal blocks and terminal boxes.
Foot mounted, flanged mounted, c faced mounted and combinations available from stock.
WEG Three Phase motors (3 Phase)
Our motors are a minimum of IE3 efficiency standard. Although we do have some stock of IE2. See our article regarding changes in Electric motor efficiency standards here.
Electric Motor Variations:
All mountings are available together with different output speeds (2 pole – 4 pole – 6 pole – 8 pole). Technical information is available from our WEG products page and WEG Single phase Electric motors page.
We provide electric motors for all rural applications. Dairy farming in particular use WEG Electric Motors on their Milk pumps and Vacuum pump applications.
WEG W22 Electric motors
WEG are a Brazilian manufacturing company worth in the region of 3 Billion USD.
Electric motors provided by WEG have become the first choice manufacturer in the UK for many industries.
E. Bennett Electrical are proud to be a Tier 1 distributor for them. Most importantly WEG products compliment our other quality industrial products, which we have been supplying for 50+ years.