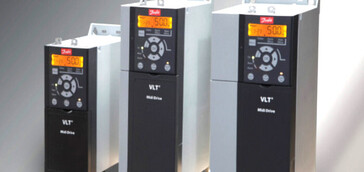 Danfoss VLT Drives technology sits at the heart of each and every one of our industrial products is evolving constantly. We are a leading provider of Electric Motors and Danfoss inverter drives. Priding ourselves on delivering stock from one of the most reputable suppliers on the planet. Danfoss is one of the most import suppliers at E.Bennett. Their Danfoss VLT Drives technology is fast becoming a must have across many industry sectors. Serving the North West of England and a little further afield.
In this blog entry, we delve deeper into the technology behind Danfoss' exceptional range. So you can discover a product that delivers on all fronts. Which involves cost effectiveness and energy efficiency, productivity and ease of use.
About Danfoss VLT Drives
As a pioneer in the world of industrial automation, Danfoss has become known and loved for making modern living possible. Their range of market leading products ensures organisations of all sizes have the equipment they need to succeed. But what's so special about their staple innovation?
When initially introduced to the market, VLT was a world first. The ground-breaking technology saw the very first mass produced frequency converter. Togeather with its application across multiple industry sectors unlocking a host of advantages.
Read about the history of Danfoss Drives.
The benefits of choosing Danfoss VLT Drives
Calling on more than 30 years of experience, Danfoss VLT promises to increase productivity and comfort levels. These two factors that have been a struggle for many tradespeople and professionals throughout the industrial sectors.
Their selection of VLT drives and electric motor controls also have the power to boost your energy saving credentials. Meeting the latest EU legislation regarding emissions.
Our Danfoss VLT Drives
The Danfoss drives stocked at E.Bennett are been used by organisations based across the North West and the rest of the UK. The Danfoss VLT FC302 range is particularly popular. These low power drives are able to be used in conjunction with the supplier's ecoSmart tool for further improvements in efficiency. We also stock Danfoss industrial controls and electric motors so you can find the ultimate solution for your industrial needs.
Find our Danfoss Products page here.
Want to read more about VLT Danfoss Technology?
Why not contact our office for more details?
Danfoss Youtube FC302 Automation drive