Welcome to the new FC280 Midi Drive which has been designed to be compatible with the now obsolete VLT2800 series. These FC280 drives have the same width as the VLT2800 and smaller in some cases. Adaptor plates fit existing VLT2800 mounting holes. The power and motor plugs from your VLT2800 series fit directly onto these FC280 Midi Drives. The motor sizes supported are one up and four down together with four setups options to program if needs be.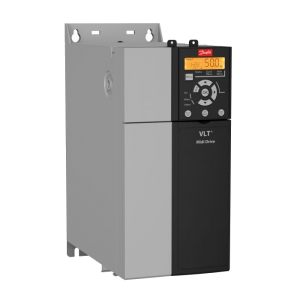 The key features of the Danfoss Midi Drive FC280 are:
Flexible – in new and existing machine concepts, installations or equipment up to 22.0kw
Communicative – through a broad spectrum of industrial communication protocols and integrated data interfaces.
Easy to use – and integrate due to a compact design and simple installation, programming and maintenance.
Fits your application – in many different industries.
The right mix of features – makes this multi purpose machinery drive the perfect choice for machine builders.
Sizes available:
Single Phase 200-240v 0.37kw – 2.2kw
Three Phase 380-480v 0.37kw – 22kw
These come in a standard IP20 enclosure, with the option of IP21/UL/NEMA kits.
EMC – low harmonic emissions because of integrated EMC filter, together with Integrated DC chokes. These drives also have the ability to disconnect the RFI filter for use on IT mains systems.
Brake choppers and STO are included on all Three phase versions with a full load operating temperature of 45C.
Horizontal mounting within derating with out the need for extra cooling, Also these new exciting FC280 drives come with a choice of keypads – none, numerical or graphical.
All major fieldbuses available as an option as well as a USB port built in as standard together as being compatible with the current award winning MCT10 Danfoss software tool.
E.Bennett (Electrical)Co have been selling and supporting Danfoss Drives UK for the last 35 years. We offer in-depth knowledge and experience to cover your Danfoss inverter needs. With that in mind whether you require spare parts, in house or on site training or access to our extensive stock. We are here to assist.
Remaining VLT2800 in Stock
We have also on the shelf a few VLT2800 Inverter drives left which are probably the last remaining ones in the country, therefore if you require any help in sourcing or setting up these drives just give us a call.
Drives stock at our warehouse consist of VLT2800, FC280, FC51, FC102, FC202 and FC302.
Danfoss FC280 Webpage here!
See why the FC202 Aqua drive is the largest supplier to the global water industry here!